Theory & Discourse
"THE LANDSCAPE" FEAT. PINK FLOYD |
Arjun Sharma
LA 67
With an idea to introduce a new way of communicating the meaning and value of the subject of landscape to young minds, Arjun Sharma and Juhi Prasad, adopt ways of music and memories to make connections and encourage students' engagement with the subject.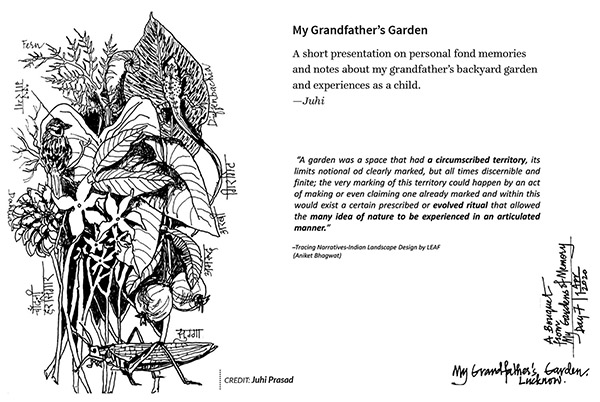 Context

I have had the interesting fortune of being involved in teaching landscape to Architecture Undergraduates in Mumbai for the past nine or ten years. Here, I met many passionate landscape architects / teachers who had diverse experiences and different outlooks on landscape and teaching. Despite the fulfilment, I have had a few misgivings about how my students and I engage with the landscape.

Firstly, we teach students who are studying to be architects. So, the conversations on the landscape tends to exist only in the service of deeper architectural understanding. This is not a bad thing, but is limiting. Why? Because, tailoring our syllabus to the architectural discourse limits us to the exploring the landscape, only where it extends the architectural intent. For example, think of our standard landscape studio exercises we run in class. These exercises can be said to have two important agendas – to provide a technical skill set upgrade for the students attending the class, and to discuss the deeper and wider concerns at the heart of landscape and environment.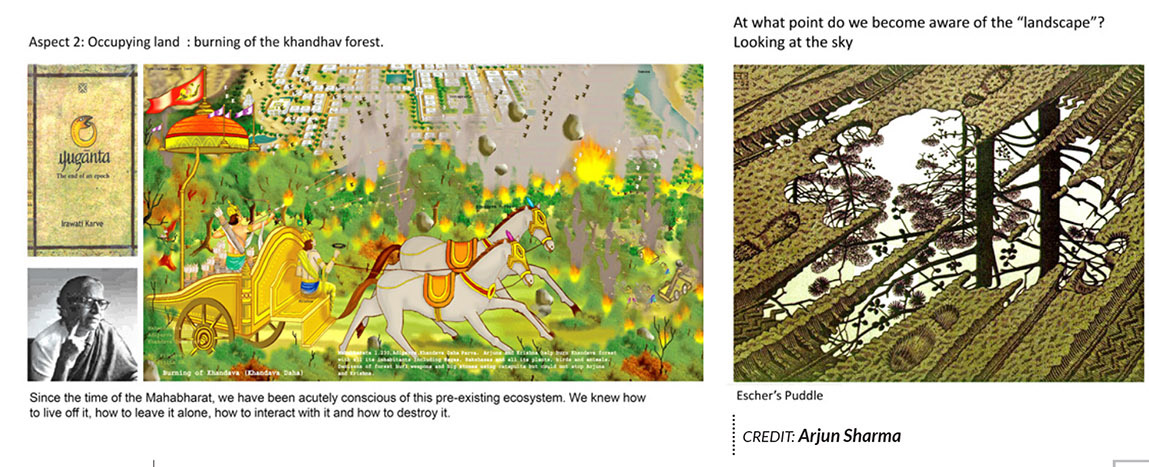 landscape education:
introspection, reflection and application |

RIGHT HERE & NOW!
Nikhil Dhar

in the larger context |

ON EDUCATION AND LANDSCAPE ARCHITECTURE
Shishir R. Raval

TREADING THROUGH… LANDSCAPE PEDAGOGY AND PRACTICE
Suneet Mohindru

THE FOUNDATIONS OF ACADEMIC MORALITY
Sridevi Rao

A VISION TOWARD STRENGTHENING LANDSCAPE ARCHITECTURE EDUCATION IN INDIA
THE ISOLA EDUCATION BOARD
Swati Sahasrabudhe, Nikhil Dhar & Prashanta Bhat

ASSESSMENT OF LANDSCAPE ARCHITECTURE PROGRAMMES
PERSPECTIVES FROM OUR REGION
Mike Barthelmeh

LANDSCAPE ARCHITECTURE:
FERTILE GROUND FOR FEMINISTS?
Elinor Scarth

foundation level |

"THE LANDSCAPE" FEAT. PINK FLOYD
Arjun Sharma

UNDERSTANDING LANDSCAPE EDUCATION IN ARCHITECTURE
BECAUSE ARCHITECTURE NEEDS THE LANDSCAPE...
AND NOT THE OTHER WAY ROUND
Shilpa Bakshi Chandawarkar

UNDERGRADUATE LANDSCAPE PROGRAM
BECAUSE ARCHITECTURE NEEDS THE LANDSCAPE...
NAVRACHANA UNIVERSITY | VADODARA
Pragya Shankar

higher education level |

TRAVERSING LANDSCAPE ARCHITECTURE EDUCATION IN MUMBAI
Urmila Rajadhyaksha

PEDAGOGICAL APPROACH OF LANDSCAPE STUDIOS
SCHOOL OF PLANNING AND ARCHITECTURE | NEW DELHI
Aarti Grover

A HERMENEUTIC FRAMEWORK FOR LANDSCAPE STUDIOS
Sandip Patil

PEOPLE PLACE PALIMPSEST
Divya Shah

LANDSCAPE ARCHITECTURE CURRICULA
ASKING THE RIGHT QUESTIONS
Ekta Gyani

collaborations |

ADVANCEMENT THROUGH ALUMNI COLLABORATION
Prashanta Bhat & Keith Christensen

EDUCATION BEYOND BOUNDARIES
CREATING NEW OPPORTUNITIES FOR COLLABORATIVE LEARNING
Caroline Lavoie & Swati Sahasrabudhe

urbanism |

TALKING URBANISM
In conversation with Vinayak Bharne

remembrance |

REMEMBERING RAJAPRAKASH PURUSHOTHAMAN
Aarti Grover