Theory & Discourse
RIGHT HERE & NOW! | Nikhil Dhar
LA 67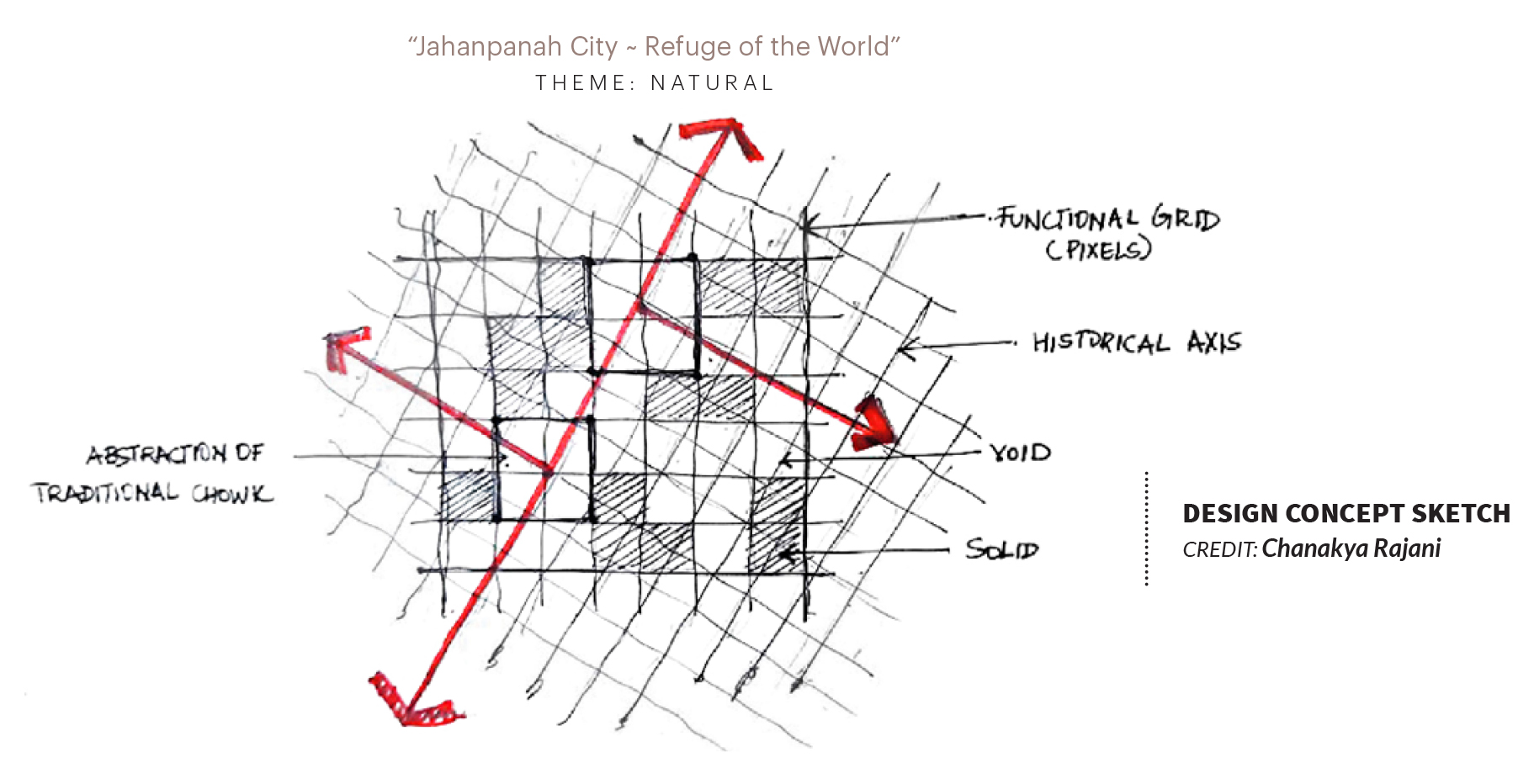 Almost everyone has an opinion on education; many of us think we know what it should not be, even if we do not know exactly what it should be. There is no denying that there are multiple issues that affect education in our country in general, and design and LA education, in particular. The need for constant evaluation, growth and evolution in our educational systems/ programs is a facet that has been discussed often; what we plan to actually do about it is really the point. Discussions have been held about inculcating the best of the West with the wisdom of our cultural systems, as well as the lack of conversation on the ethics of our interventions in the environment, in both our education and practice. Climate change and related extreme weather events often dominate the headlines today, clearly showing us the consequences of decades of heedless development. The lack of theoretical connections on design and environmental psychology also affect both our education systems and our practices, as do the weaknesses in the connections between research, teaching and practice.

LA education has an importance in our lives. We cannot afford to leave it 'out there', as one of our contributors has written, only affecting us indirectly. It needs to be 'right here', front-and-centre in our awareness. LA education affects many of us, directly and indirectly. It directly affects the many types of LAs who run practices, who may seek industry-ready employees for efficient production of working drawings, or creative designers, with flair and imagination. A research-oriented practice may look for qualities of scholarship and skills in writing; a practice with an ecological approach may look for like-minded graduates.




landscape education:
introspection, reflection and application |

RIGHT HERE & NOW!
Nikhil Dhar

in the larger context |

ON EDUCATION AND LANDSCAPE ARCHITECTURE
Shishir R. Raval

TREADING THROUGH… LANDSCAPE PEDAGOGY AND PRACTICE
Suneet Mohindru

THE FOUNDATIONS OF ACADEMIC MORALITY
Sridevi Rao

A VISION TOWARD STRENGTHENING LANDSCAPE ARCHITECTURE EDUCATION IN INDIA
THE ISOLA EDUCATION BOARD
Swati Sahasrabudhe, Nikhil Dhar & Prashanta Bhat

ASSESSMENT OF LANDSCAPE ARCHITECTURE PROGRAMMES
PERSPECTIVES FROM OUR REGION
Mike Barthelmeh

LANDSCAPE ARCHITECTURE:
FERTILE GROUND FOR FEMINISTS?
Elinor Scarth

foundation level |

"THE LANDSCAPE" FEAT. PINK FLOYD
Arjun Sharma

UNDERSTANDING LANDSCAPE EDUCATION IN ARCHITECTURE
BECAUSE ARCHITECTURE NEEDS THE LANDSCAPE...
AND NOT THE OTHER WAY ROUND
Shilpa Bakshi Chandawarkar

UNDERGRADUATE LANDSCAPE PROGRAM
BECAUSE ARCHITECTURE NEEDS THE LANDSCAPE...
NAVRACHANA UNIVERSITY | VADODARA
Pragya Shankar

higher education level |

TRAVERSING LANDSCAPE ARCHITECTURE EDUCATION IN MUMBAI
Urmila Rajadhyaksha

PEDAGOGICAL APPROACH OF LANDSCAPE STUDIOS
SCHOOL OF PLANNING AND ARCHITECTURE | NEW DELHI
Aarti Grover

A HERMENEUTIC FRAMEWORK FOR LANDSCAPE STUDIOS
Sandip Patil

PEOPLE PLACE PALIMPSEST
Divya Shah

LANDSCAPE ARCHITECTURE CURRICULA
ASKING THE RIGHT QUESTIONS
Ekta Gyani

collaborations |

ADVANCEMENT THROUGH ALUMNI COLLABORATION
Prashanta Bhat & Keith Christensen

EDUCATION BEYOND BOUNDARIES
CREATING NEW OPPORTUNITIES FOR COLLABORATIVE LEARNING
Caroline Lavoie & Swati Sahasrabudhe

urbanism |

TALKING URBANISM
In conversation with Vinayak Bharne

remembrance |

REMEMBERING RAJAPRAKASH PURUSHOTHAMAN
Aarti Grover