Art & Culture
THE AESTHETICS OF PLANTINGS IN EARLY MUGHAL GARDEN PAINTINGS | James L. Wescoat Jr.
LA 62
A new four part series explores various inspirations for planting designs of historic gardens of Indian subcontinent - Mughal Gardens - as looked through the lens of Mughal miniature paintings.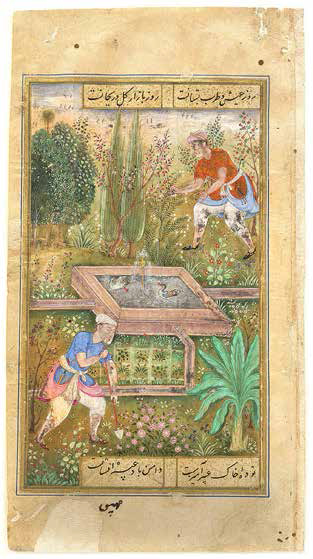 Rationale: Limited Historical Evidence of Mughal Planting Design

Little survives in the way of original Mughal planting plans, drawings, models, or textual descriptions. The Irshad al Zira'a ('Guide to Agriculture') constitutes an important exception. Written in Herat in the 15th century, it was shaped in part by a landscape architect whose family became directly involved in the design of Babur's gardens in Dholpur and Humayun's tomb-garden in Delhi (Subtelny 1995, 1997). There have been at least three different spatial interpretations of the chahar bagh described in that text.

Mughal literature often mentions the names and qualities of individual plant species, which have been compiled in lists for garden conservation purposes. In addition, several detailed studies have been made of botanical references in poetic works like Nizami's Khamsa (van Ruymbeke, 2007) as well as Mughal sources (Gupta, 2018). Little archaeobotanical evidence survives in the way of pollen or macro botanical fragments (Lentz, 2000). Historical photography does reveal vegetation change at sites like the Taj Mahal, but only from the mid-19th century onwards (Priyaleen Singh, pers. comm.). Painting is thus the nearest-contemporary visual evidence of planting aesthetics.