Profiles & Tributes
EXPLORING DELIGHT WITH P.S. | Gautam Sachdeva
LA 62
Pradeep Sachdeva's architecture designs, inspired by vernacular and local traditions gave much respect and dignity to the craft traditions, especially in public realm.He has a crucial role to play in initiating sensitive practices in designing spaces.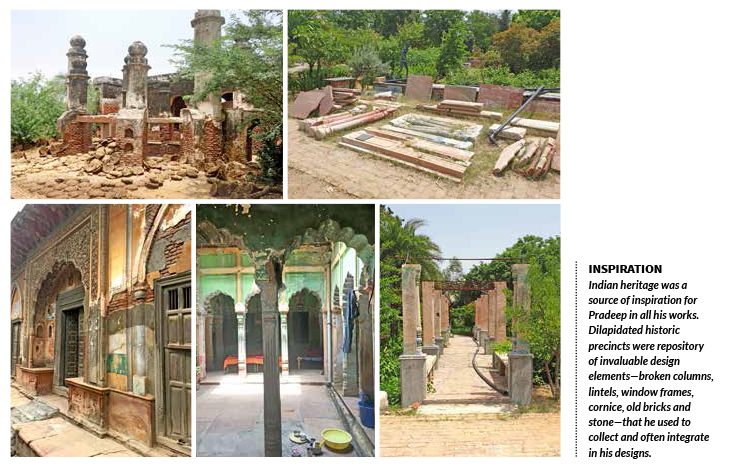 GS [Gautam Sachdeva]: "Why can't we have beautiful things?"

PS [Pradeep Sachdeva]: "We can. And we do."

We travelled together often, and there remains not a single of those journeys where we were not compelled to pause, just because some odd form of completely underwhelming architecture or a peculiar element of design had caught his eye. These seemingly absurd instances were not just a hallmark of his childlike curiosity but his instinctive draw to the innocuous. Like, on our way to Farukhnagar, Haryana, PS made us stop at an abandoned well which at first glance appeared like a demolition site but turned out to be a well dating back to the Colonial era, using 'lakhori' bricks—Its arched vista with solid stone carved columns overlooking a natural reservoir, currently being used to sun dry cow dung. Or when he made us stop to admire a bunting of no particular uniqueness hanging in some village market on our way to Dehradun, that oddly fit right in with all the hustle and bustle, creating a sense of presence for what was otherwise ordinary.

Once, ambling through the lanes of Shekhawati in Rajasthan we stumbled across a crumbling ruined edifice, so dilapidated that a section of an arch was clearly visible in its exposed brick skeleton—its patina layered on the plaster had turned it into a shade more plant than lime—framing a courtyard studded with hand-carved sandstone columns and brackets precariously supporting a balcony. Neglected by all as debris, yet it caused a gleam in his eye as he excitedly exclaimed: "Wow, we need to have that". So much so that he started making plans to venture out in the night to steal this so-called 'treasure trove' of ornamented stone. That plan was fortunately abandoned after a few drinks and a tiring day.