Cities
Streetscapes in Pune |
Prasanna Desai Architects | Oasis Designs Inc.
LA 61
The city of Pune is among 100 cities selected as part of Government of India's Smart City Mission. The administration of Pune intends to improve its pedestrian and cycling environment by redesigning its arterial roads as Complete Streets. Twenty seven kilometres of streets have been identified for redesign, in the ABD [Area-Based Development] area as part of the Smart City proposal, and 100 kilometres under the city's annual budget. The first phase of these street design projects includes Aundh's D. P. Road & ITI Road [by Prasanna Desai Architects] and J. M. Road [by Oasis Designs Inc].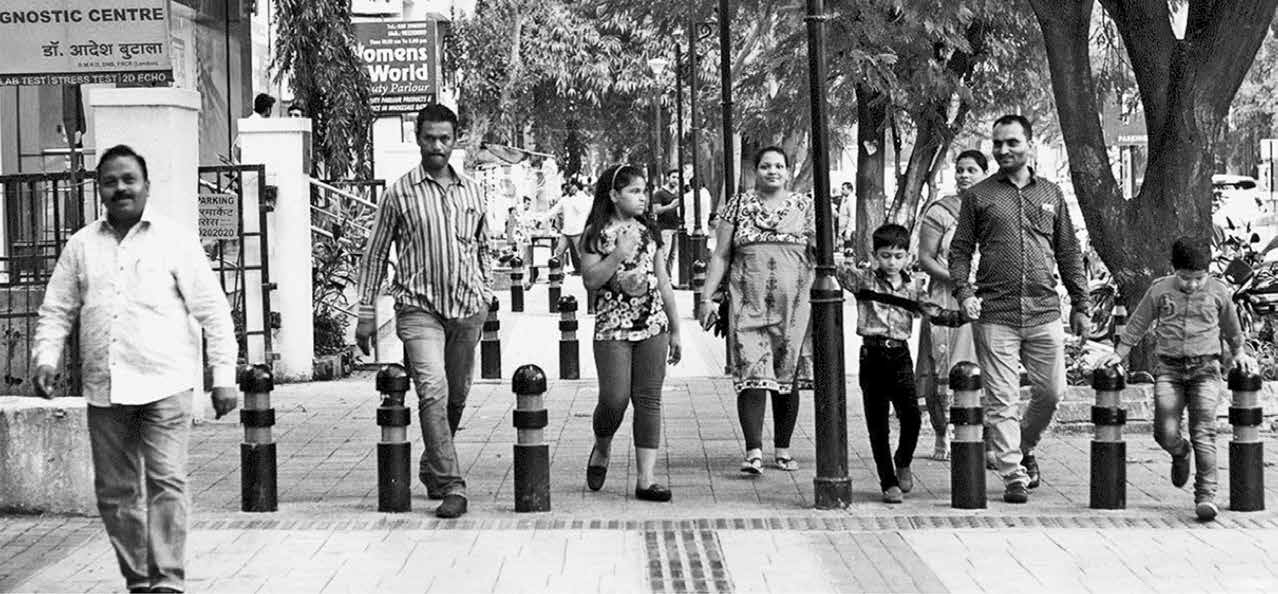 environment, ecology and biodiversity |
RESCUING THE URBAN POLLINATORS
MADHURA KHADE

WETLANDS AT WORK
UNDERSTANDING WETLANDS
With inputs from Dr. C. R. Babu

CONSTRUCTED WETLAND AT RAJOKRI, NEW DELHI
[Delhi Jal Board]
Ankit Srivastava

CONSTRUCTED WETLAND AT NEELA HAUZ, NEW DELHI
Landscape and Environment Planning Department,
Delhi Development Authority

CONSTRUCTED WETLAND AT HAUZ KHAS LAKE, NEW DELHI
Tarun Nanda, Evolve Engineering

RESTORATION AND REJUVENATION OF RIVER YAMUNA FLOODPLAINS, NEW DELHI
Landscape and Environment Planning Department,
Delhi Development Authority

REIMAGINING THE CITY
YAMUNA RIVER PROJECT:NEW DELHI URBAN ECOLOGY
[Authors Inaki Alday and Pankaj Vir Gupta]
Review by Geeta Wahi Dua

REJUVENATION AND RESTORATION OF URBAN PONDS, GURUGRAM
Future Institute

SPURRING ECONOMIC REVIVAL THROUGH ECOLOGICAL RESTORATION, NANHU, CHINA
Uma Sekar

heritage, urban design, landscape architecture |
FROM MY HOUSE TO YOUR HOUSE
In conversation with Miki Desai

CITY MAPS: MAPPING NATURE AND ENVIRONMENT
Review by Rabindra J. Vasavada

A SENSE OF SPACE
Anuraag Chowfla

IN CONVERSATION WITH RANJIT SABIKHI

DEMOCRACY, PARTICIPATION AND CONSULTATION
In conversation with Bimal Patel

city and culture |
OUR CITIES CAN FIGHT COVID-19 PROACTIVELY
Mriganka Saxena and Puneet Khanna

LOCALIZING FUTURES
Geeta Wahi Dua

BOURGEOIS ENVIRONMENTALISM AND THE VULNERABILITY OF THE POOR
UNCIVIL CITY: ECOLOGY, EQUITY AND THE COMMONS IN DELHI [Author: Amita Baviskar]
Review by Nikhil Dhar

STREETSCAPES IN PUNE
CREATING A HEALTHY AND WALKABLE NEIGHBORHOOD: AUNDH NEIGHBORHOOD UPGRADATION | PUNE
Prasanna Desai Architects

ABOUT RETAIL, TREES AND YOUNG VIBES:
JANGLI MAHARAJ ROAD | PUNE
Oasis Designs Inc.

EMERGENCE OF THE EPHEMERAL
Bijoy Ramachandran

seeing the unseen |
ART FOR ALL
St+Art India Foundation