Environment & Ecology
Constructed Wetland at Rajokri | Ankit Srivastava
LA 61
Various technical aspects of the constructed wetlands and their importance in restoring health of our water resources are some the aspects that are discussed in the article.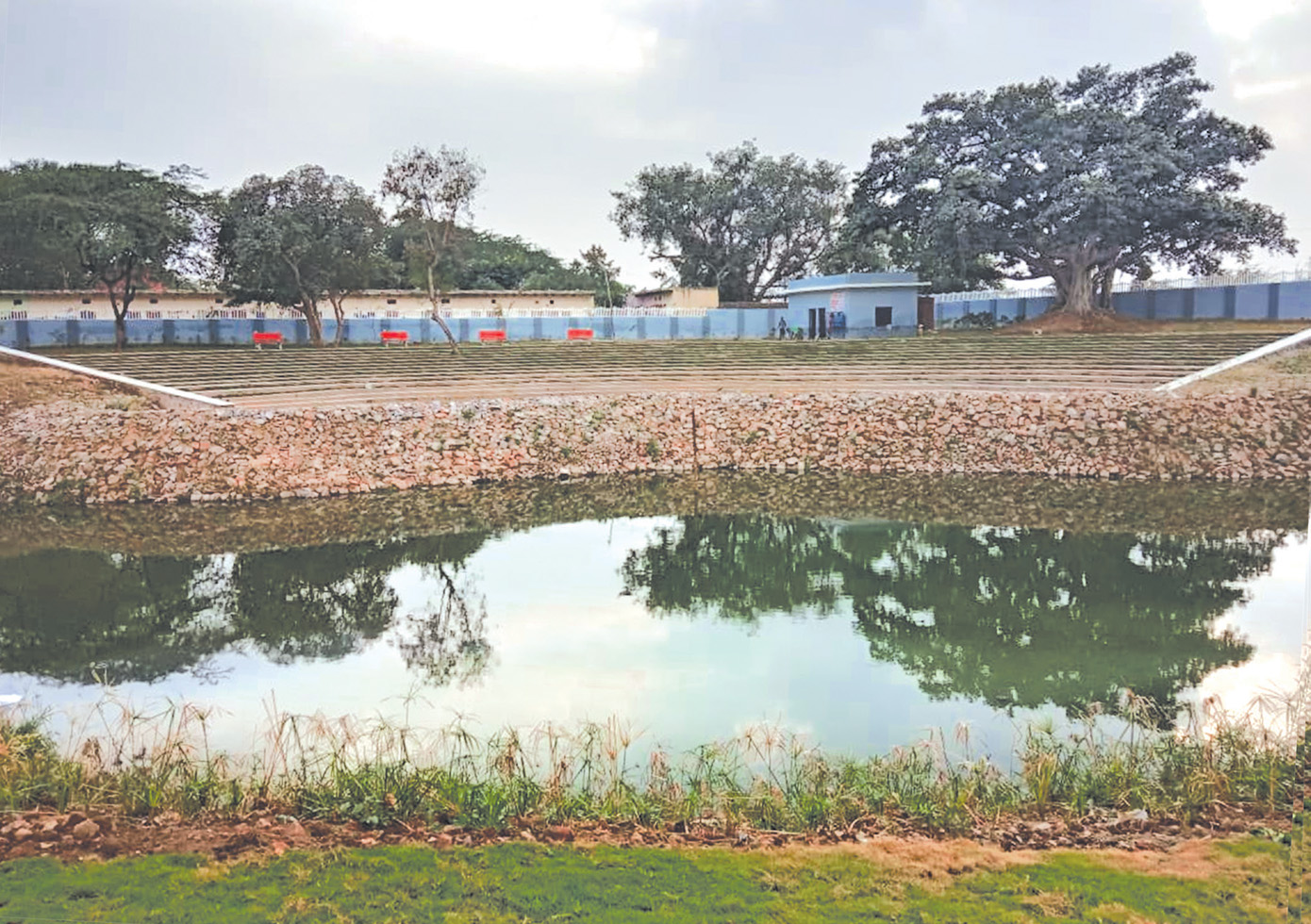 Constructed wetland is a sequential engineering system of a set of chambers like settling pond, bio-digestor and gravel trough enabled by various chemical and biological processes to mimic working of a natural wetland. They perform the same function as a sewage treatment plant, however, there are no mechanical or energy requirements. Aquatic plants, algae and other microbes, rooted in the submerged layer of gravel and sand are active components of various biological processes. Installed in the intermediate space between the sewage source and the draining area, it is used to treat extremely polluted water and untreated raw sewage with high values of BOD [Biochemical Oxygen Demand], before letting it go in a lake. This is achieved by a system of many chemical and biological processes that take place in the engineering system.

These wetlands are built with impermeable base of concrete/ pond liner/ boulder bed that does not allow any water percolation. While the shallow ponds may be lined by an impermeable layer while the deep ones may have concrete base. The section of ponds with concrete base can be designed with dividers in such a way that there is slow, but more movement and flow of water throughout the media. This is not possible in lined ponds. The design of a system of constructed wetlands evolves as per distinct site conditions, especially the nature of pollutants and their quantity. At times, this system may also need combination of processes of different nature. For example, to address high phosphate levels of pollutants which is present only in soil and water and doesn't circulate through aerial process, both aerobic and anaerobic zones in the main gravel trough are needed.




environment, ecology and biodiversity |
RESCUING THE URBAN POLLINATORS
MADHURA KHADE

WETLANDS AT WORK
UNDERSTANDING WETLANDS
With inputs from Dr. C. R. Babu

CONSTRUCTED WETLAND AT RAJOKRI, NEW DELHI
[Delhi Jal Board]
Ankit Srivastava

CONSTRUCTED WETLAND AT NEELA HAUZ, NEW DELHI
Landscape and Environment Planning Department,
Delhi Development Authority

CONSTRUCTED WETLAND AT HAUZ KHAS LAKE, NEW DELHI
Tarun Nanda, Evolve Engineering

RESTORATION AND REJUVENATION OF RIVER YAMUNA FLOODPLAINS, NEW DELHI
Landscape and Environment Planning Department,
Delhi Development Authority

REIMAGINING THE CITY
YAMUNA RIVER PROJECT:NEW DELHI URBAN ECOLOGY
[Authors Inaki Alday and Pankaj Vir Gupta]
Review by Geeta Wahi Dua

REJUVENATION AND RESTORATION OF URBAN PONDS, GURUGRAM
Future Institute

SPURRING ECONOMIC REVIVAL THROUGH ECOLOGICAL RESTORATION, NANHU, CHINA
Uma Sekar

heritage, urban design, landscape architecture |
FROM MY HOUSE TO YOUR HOUSE
In conversation with Miki Desai

CITY MAPS: MAPPING NATURE AND ENVIRONMENT
Review by Rabindra J. Vasavada

A SENSE OF SPACE
Anuraag Chowfla

IN CONVERSATION WITH RANJIT SABIKHI

DEMOCRACY, PARTICIPATION AND CONSULTATION
In conversation with Bimal Patel

city and culture |
OUR CITIES CAN FIGHT COVID-19 PROACTIVELY
Mriganka Saxena and Puneet Khanna

LOCALIZING FUTURES
Geeta Wahi Dua

BOURGEOIS ENVIRONMENTALISM AND THE VULNERABILITY OF THE POOR
UNCIVIL CITY: ECOLOGY, EQUITY AND THE COMMONS IN DELHI [Author: Amita Baviskar]
Review by Nikhil Dhar

STREETSCAPES IN PUNE
CREATING A HEALTHY AND WALKABLE NEIGHBORHOOD: AUNDH NEIGHBORHOOD UPGRADATION | PUNE
Prasanna Desai Architects

ABOUT RETAIL, TREES AND YOUNG VIBES:
JANGLI MAHARAJ ROAD | PUNE
Oasis Designs Inc.

EMERGENCE OF THE EPHEMERAL
Bijoy Ramachandran

seeing the unseen |
ART FOR ALL
St+Art India Foundation