Cities
Restoration of a City Icon: Flora Fountain, Mumbai | Vikas Dilawari
LA 59
Flora Fountain, once a landmark in the urbanscape of Mumbai had, overtime, been taken over by the elements of the city- both virtually and physically owing to ill-informed conservation efforts it was subjected to over the years. The restoration of the fountain by INTACH, at the behest of Municipal Corporation of Greater Mumbai, aimed at restoring the fountain's lost glory by reinstating its water system and literally chipping away the effects of the many years to uncover its original beauty.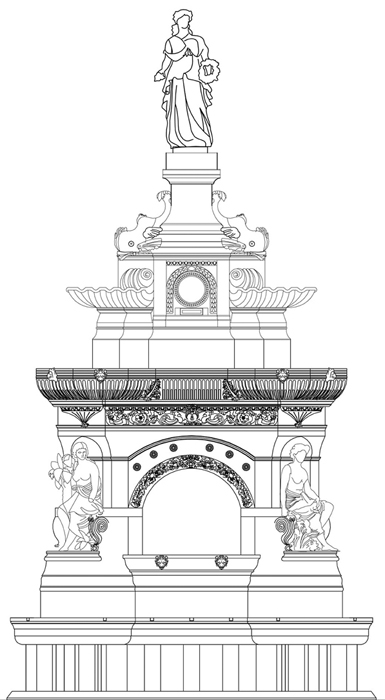 Historical Background: Fountains as a part of nineteenth century urban landscape

Mid-nineteenth century Bombay [now Mumbai] saw the emergence of several types of fountains imitating the trend that was set in Europe for providing clean drinking water and hygienic street drainage to fight against epidemics like plague. Bombay saw several drinking water fountains set up in the core Fort area while the ornamental fountains became a part of the urban landscape, serving as roundabouts at the junctions of main roads. These fountains were built either with the leading community members or were built as memorials. Some water fountains served water to the commuters while some were purely ornamental in nature.

Flora Fountain, commissioned for the Agro-Horticultural Society of Western India and executed by the Esplanade Fee Fund, was meant to be located at Byculla in the then laid botanical gardens in a central round. However, it was decided to site it here, in its present location, again in an axis to highlight the restructuring attempts of the city wherein new public architecture replaced the city fort walls [1720-1860].

For a century and half it has been the identity of the city. It was designed by Norman Shaw and sculpted by James Forsyth, both eminent professionals from London. It was shipped and assembled here and was dedicated to the city on 18 November 1869. Flora Fountain was originally to be named after Sir Bartle Frere, the Governor of Bombay at the time. However, the name was changed to Flora Fountain, after the Roman goddess Flora, before the fountain was unveiled. The fountain also has, at its first level, a square base with projecting semicircular apses at the four inter cardinal corners that house the statues of four women, in different attires. These four allegorical figures seated in niches represent the industrial, cereal, plant and edible fruit products of India. The fountain is 38 feet high and boasts of 64 water spouts.