Cities
Jaipur: World Heritage City | Dr. Shikha Jain & Dr. Rima Hooja
LA 59
The historic city of Jaipur, which was ahead of its times with its planning, design and thriving culture has been designated as a World Heritage City by UNESCO. The Dossier for the nomination was prepared by DRONAH, a research oriented consultancy firm in the area of built heritage community initiatives and environment, along with its advisor and historian Dr. Rima Hooja and benefitted from discussions with various other professionals.

Here, Dr. Shikha Jain and Dr. Rima Hooja offer insights into the process and the work.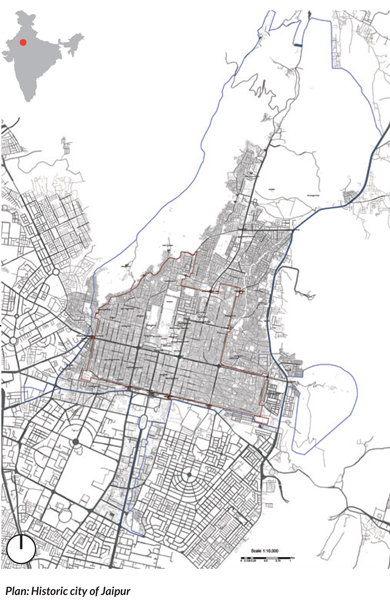 Besides achieving World Heritage Site inscriptions for Jantar Mantar [2010], Amber Fort [2013], Jaipur was designated as a City of Crafts and Folk Art, as part of UNESCO Creative City Network [2015]. The journey towards getting a World Heritage City status had already begun around a decade ago.

The journey for Jaipur as World Heritage City evolved in the last decade. It started with the preparation of Jaipur Heritage Management Plan in 2006-07 which marked the first city level heritage plan for any city in India. The inscriptions for Jantar Mantar in 2010 and Amber Fort [as part of 6 Hill Forts of Rajasthan] paved the way for understanding the nuances of world heritage procedures and prepared the Government of Rajasthan in dealing with World Heritage issues.

To designate Jaipur under UNESCO Creative City Network even before applying for World Heritage was a conscious decision. As the idea was to promote other UNESCO culture conventions and programs that have a direct impact on livelihood. The purpose of finally inscribing Jaipur on World Heritage was not so much for UNESCO branding or international visibility as Jaipur already had enough of that with events like literature festival, being a part of the golden tourist triangle and the past UNESCO inscriptions. The intention was to sustain and protect Jaipur's Urban Heritage which was at the risk of getting lost in recent urban development and lack of enforcement of byelaws. This inscription allows Jaipur to be monitored through the World Heritage Committee and, Rajasthan Government-specially Jaipur Municipal Corporation-has given a number of commitments on protection, legislation and management of Jaipur's heritage.

Natural Features and Water Systems

There are many important landscape related aspects of the historic city of Jaipur. The water bodies, gardens and chowks are important and find mention as part of the overall planning. The water system for Jaipur was unique but it was already compromised in the late nineteenth century when Sawai Ram Singh closed the water tanks at Chaupars and introduced the piped water supply system. Important research in this regard is being carried out by Remi Paillaut, in collaboration with Aayojan College of Architecture. This water system is not highlighted in the Dossier as physical evidence of its authenticity and integrity no longer exists.