Theory and Discourse
Landscape Program | Dr.Deepa Maheshwari, Sandip Patil, Bobby Sujan & Divya Priyesh Shah
LA 54
The landscape program at CEPT was developed with a pedagogy that viewed landscape through the lens of natural resource conservation and ecological landscape planning. Having now completed over twenty five years.

The program has allowed for the profession to take up a dynamic position and has encouraged its students to adopt a manner of profession that is encompassing of both research and practice. Through this course that provides the students with exploratory environments, they are encouraged to explore landscape design through varying perspectives.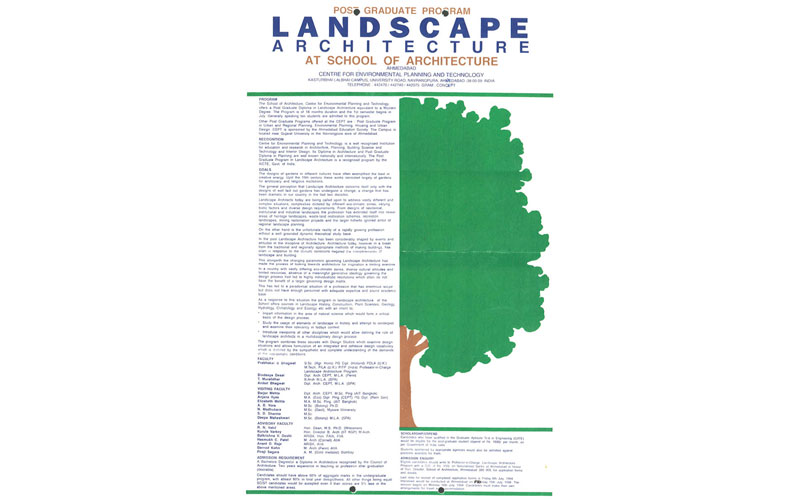 The landscape program at CEPT University is now in its twenty-fifth year in 2018. There is an urge for introspection, and setting a manifesto for the coming twenty-fifth years. The program was established in 1993 by late Professor PrabhakarBhagwat in consultation with the legendary Professor Brian Hackett of Newcastle University. Being a landscape architect with an undergraduate degree in natural sciences, Professor Bhagwat oriented the program in a radically different direction from the very beginning. While most landscape programs looked to provide landscape architects with requisite skillsets for practice in urban areas, the program at CEPT encouraged students to explore and study the larger region, especially smaller towns and rural areas.

Establishment and History

Professor Bhagwat and Professor Hackett were greatly influenced by Scandinavian landscape practice, and this reflected amply in their pedagogy as well as professional work. Under their guidance, the program boldly embraced a clear alignment with the European ecological land management processes, which Professor Bhagwat had experienced first-hand in the Netherlands, Denmark and the UK during his studies and employment there. Establishing a new program was a huge endeavour. Professor Bhagwat had the help of Professors B. V. Doshi and Dr Vakil at CEPT. The other important person in laying the foundations of studio learning at the landscape program was AniketBhagwat who is probably the only person who has a close insight into the two stalwarts of Indian landscape-his father Professor PrabhakarBhagwat and his teacher at Master of Landscape Architecture at the School of Planning and Architecture, New Delhi, Professor Mohammed Shaheer. Aniket infused a fresh direction into the CEPT studios with his unique exploratory approach and constant pivots to the studio programs.



CURRENT ISSUE: LA-61
environment, ecology and biodiversity |
RESCUING THE URBAN POLLINATORS
MADHURA KHADE

WETLANDS AT WORK

UNDERSTANDING WETLANDS
With inputs from Dr. C. R. Babu

CONSTRUCTED WETLAND AT RAJOKRI, NEW DELHI
[Delhi Jal Board]
Ankit Srivastava

CONSTRUCTED WETLAND AT NEELA HAUZ, NEW DELHI
Landscape and Environment Planning Department,
Delhi Development Authority

CONSTRUCTED WETLAND AT HAUZ KHAS LAKE, NEW DELHI
Tarun Nanda, Evolve Engineering

RESTORATION AND REJUVENATION OF RIVER YAMUNA FLOODPLAINS, NEW DELHI
Landscape and Environment Planning Department,
Delhi Development Authority

REIMAGINING THE CITY
YAMUNA RIVER PROJECT:NEW DELHI URBAN ECOLOGY
[Authors Inaki Alday and Pankaj Vir Gupta]
Review by Geeta Wahi Dua

REJUVENATION AND RESTORATION OF URBAN PONDS, GURUGRAM
Future Institute

SPURRING ECONOMIC REVIVAL THROUGH ECOLOGICAL RESTORATION, NANHU, CHINA
Uma Sekar

heritage, urban design, landscape architecture |
FROM MY HOUSE TO YOUR HOUSE
In conversation with Miki Desai

CITY MAPS: MAPPING NATURE AND ENVIRONMENT
Review by Rabindra J. Vasavada

A SENSE OF SPACE
Anuraag Chowfla

IN CONVERSATION WITH RANJIT SABIKHI

DEMOCRACY, PARTICIPATION AND CONSULTATION
In conversation with Bimal Patel

city and culture |
OUR CITIES CAN FIGHT COVID-19 PROACTIVELY
Mriganka Saxena and Puneet Khanna

LOCALIZING FUTURES
Geeta Wahi Dua

BOURGEOIS ENVIRONMENTALISM AND THE VULNERABILITY OF THE POOR
UNCIVIL CITY: ECOLOGY, EQUITY AND THE COMMONS IN DELHI [Author: Amita Baviskar]
Review by Nikhil Dhar

STREETSCAPES IN PUNE

CREATING A HEALTHY AND WALKABLE NEIGHBORHOOD: AUNDH NEIGHBORHOOD UPGRADATION | PUNE
Prasanna Desai Architects

ABOUT RETAIL, TREES AND YOUNG VIBES:
JANGLI MAHARAJ ROAD | PUNE
Oasis Designs Inc.

EMERGENCE OF THE EPHEMERAL
Bijoy Ramachandran

seeing the unseen |
ART FOR ALL
St+Art India Foundation