| nature in the city

WEAVING GREEN CONNECTIONS
ACROSS SOCIO-ECONOMIC AND TOPOGRAPHIC BOUNDARIES | BADSHAHPUR FOREST CORRIDOR, GURUGRAM
Tvara Sharma
LA 71
At a time when significant infrastructure projects are displacing the majority of our forest acreage and green spaces, rewilding an erstwhile waterway and an abandoned wasteland could seem like a pipe dream. However, this 44-acre stretch of linear green space in the city offers people much more than just a place to walk, jog, bike, and exercise; it also offers a haven from the city's severely polluted air for leisurely activities, outdoor play, and much more. It is not only inclusive and accessible to the diverse neighbourhood that surrounds it, which includes gated communities, lowincome housing groups, migrant camps, and four urban villages, but it also serves as an ideal illustration of hands-on site-specific landscape interventions through creative waste reuse, restoration of native plant species and biodiversity habitat along with comprehensive nature-based stormwater management.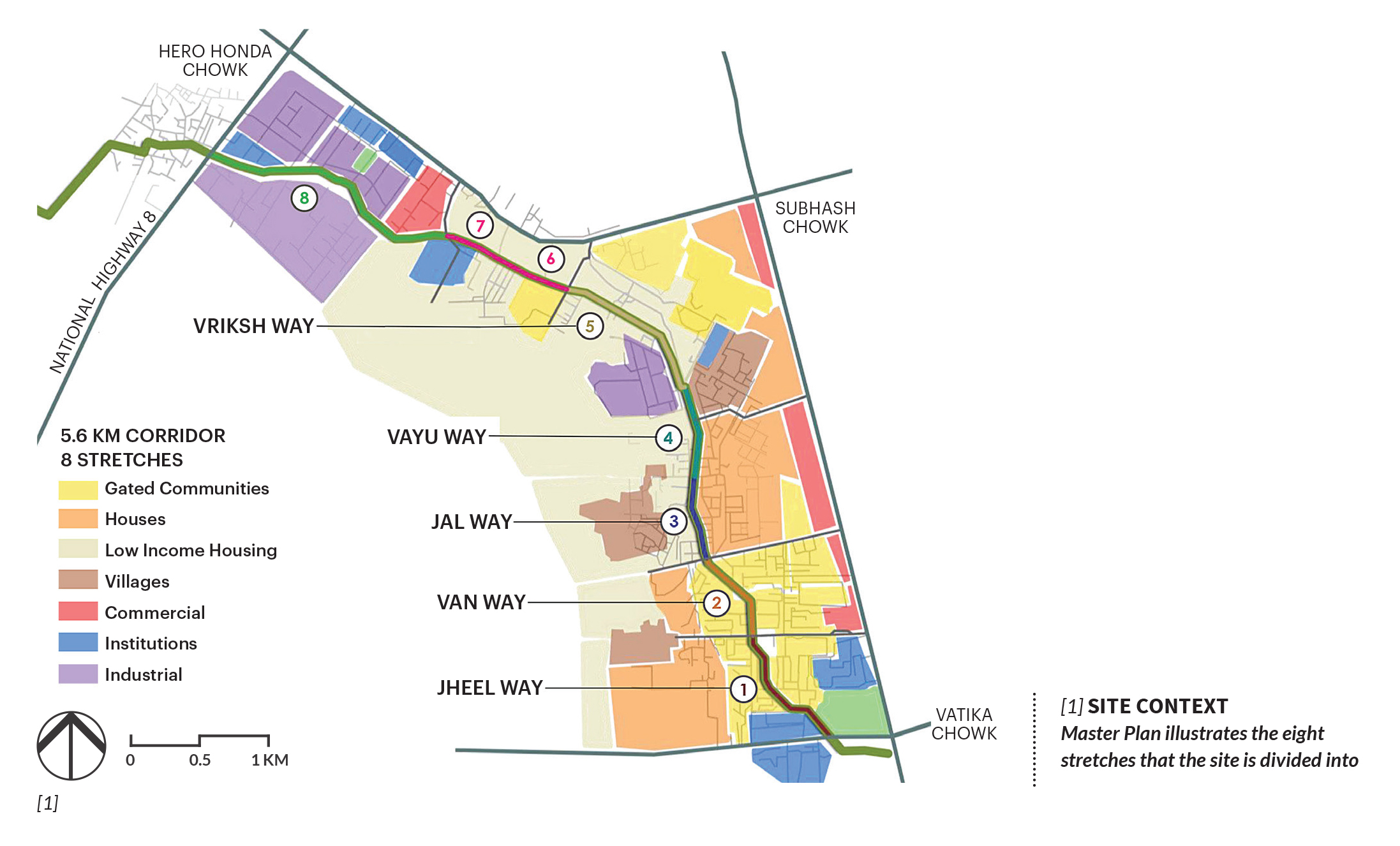 The Millennium City - Gurugram, encounters a slew of issues as a result of rapid urbanization. High levels of pollution, inadequate waste management, an ineffective dependence on structured drainage systems that have led to a rapidly declining groundwater table and forests are just a few of the issues confronting the city. A metropolis of gated communities, home to more than 1.5 million people, Gurugram also lacks citylevel public open spaces. As a result of the city's expanding development footprint on land and historic waterways, drainage systems constantly collapse with each rain, and waste and construction debris continue to pile up. As a designed public open space, the Badshahpur Forest Corridor project responds to the pressing demands of this developing city and makes a modest attempt to acknowledge "the story of Gurgaon, the circle of waste and the journey of water."