Profile
CREATING ENVIRONMENTAL EDUCATION LANDSCAPES |
IDEA Design
LA 63
Idea Design is a consultancy firm based in Cochin, which is engaged in the practice of architecture, landscape, and urban design. Known for its ecological approach towards design, the firm—with three partners Chitra Biley, Michael Little, both landscape architects, and Biley Menon, an urban designer—is involved in works of different design vocabulary in institutional, hospitality, residential, and architecture conservation developments, mainly in southern India.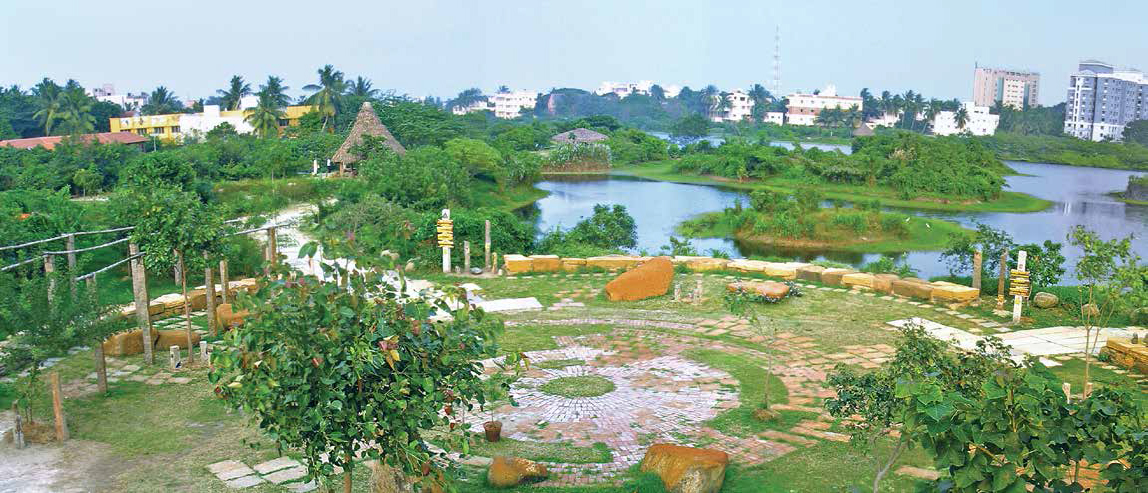 Coming Together

BILEY: I think it was sometime in 2005-2006. We have a common client and friend, a group called Good Earth, which has offices in Cochin and Bangalore. Once we went to one of their sites in Bangalore. There, we saw a gentleman driving a JCB and expertly sculpting the terrain. That was Michael, the landscape architect. We didn't spend a lot of time together then. Later in 2006, Joss Brooks from Auroville invited us and Michael, to form a group for the Adyar Ecological Restoration Project, Chennai, which was about to start. Our office did the base studies and research – detailed site analysis, regional studies, traffic studies, and urban design studies. Later, he worked more closely when the implementation started on the ground. In the process, we understood that each of us has a different skill set. While Chitra is strong in landscape design, engineering, drawings, and documentation, Michael is hands-on and can think of landscape design from a different perspective, more like a sculpture and its connection with the site's natural history, a quite unique approach. I could contribute to assessing the impact of ecological systems and processes, understanding land with its unseen layers like groundwater, drainage, soil, geology, and hydrology. So all these different skill sets came together in a project which actually had a lot of opportunities. We also understood the power of teamwork. Some of the projects, on which we worked together, required our combined expertise. So trying to join our strengths for positive results was the way forward for us. Later we founded a formal partnership company with the three of us.