Landscape Design
Nature in the City | Landscape Foundation India
LA 49
Nehru Park, New Delhi

Nehru Park is one of the three earliest examples of designed public spaces in the independent India, the others being Raj Ghat, memorial of Mahatma Gandhi (by Vanu Bhuta in mid 50s) and Buddha Jayanti Park (by Mansinh M Rana in mid 50s), all in the capital city of New Delhi. It is strongly inspired by the English landscape design vocabulary of a park, with undulating landforms covered with grass, clusters of trees, curvilinear pathways, all creating a variety of spatial experiences. The landscape with a cohesive design scheme, spread over an area of more than sixty acres marks a landmark stage in the evolution of park design in the country. This documentation presents the story of the creation of the park.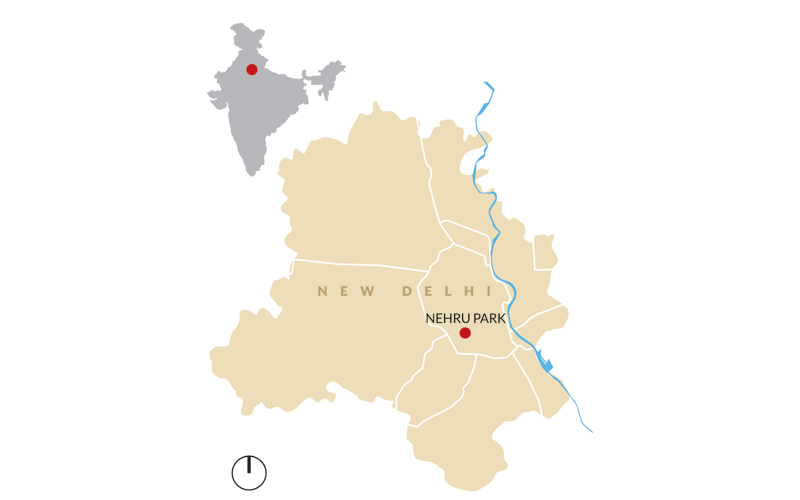 In early 60s, the New Delhi Municipal Council (NDMC) invited few eminent architects of Delhi to design new buildings on a parcel of land with mixed landuses. This came to be known as Yashwant Place, located on the Southern edge of Chankyapuri, the diplomatic enclave of the capital city. The architects included Shivnath Prasad for the Akbar Hotel, JK Chaudhary for the office building, PN Mathur for the Chanakya cinema and CSH Jhabvala for the shopping complex. Ram Sharma, then a young landscape architect was invited to develop a nearby regional park, which is now known as the Nehru Park.

The northern side of the site for the park faces Hotel Ashoka, recently constructed at that time, on Panchsheel Marg while Yashwant Place faces its south boundary. A few embassies are located on the western side along Niti Marg. The eastern edge of the site is marked by three old temples, accessed from the Eastern road (Vinay Marg) and the corner plot on the south-east side belongs to Central Public Works Department CPWD.

Original proposal

Originally a slum area, the site for Nehru Park was envisioned as a regional park addressing the recreational needs of the surrounding area of embassy and the city at large. The core natural inheritance of the site is a rocky outcrop of the Delhi Ridge located on the northern side and spreading inwards. The topographical configuration of the rocky terrain interspersed with low-lying flat areas presented a visually interesting and varied site context to the designer for conceptualizing a wide range of areas for the projected functions of a park.