| the city

SRINAGAR THE CITY
AN INTRODUCTION TO KASHMIR THE VALLEY
Hakim Sameer Hamdani
LA 72
The identity of Kashmir region in Himalayas, is informed, inspired and shaped by unique syncretic culture of shared aesthetic and cultural values of different faiths in South Asia. With the capital city of Srinagar, its history is marked by a rich art and crafts tradition, vernacular architecture, and a legacy of a rich garden tradition. These are important cultural resources which can enlightened the development of the region in 21st century.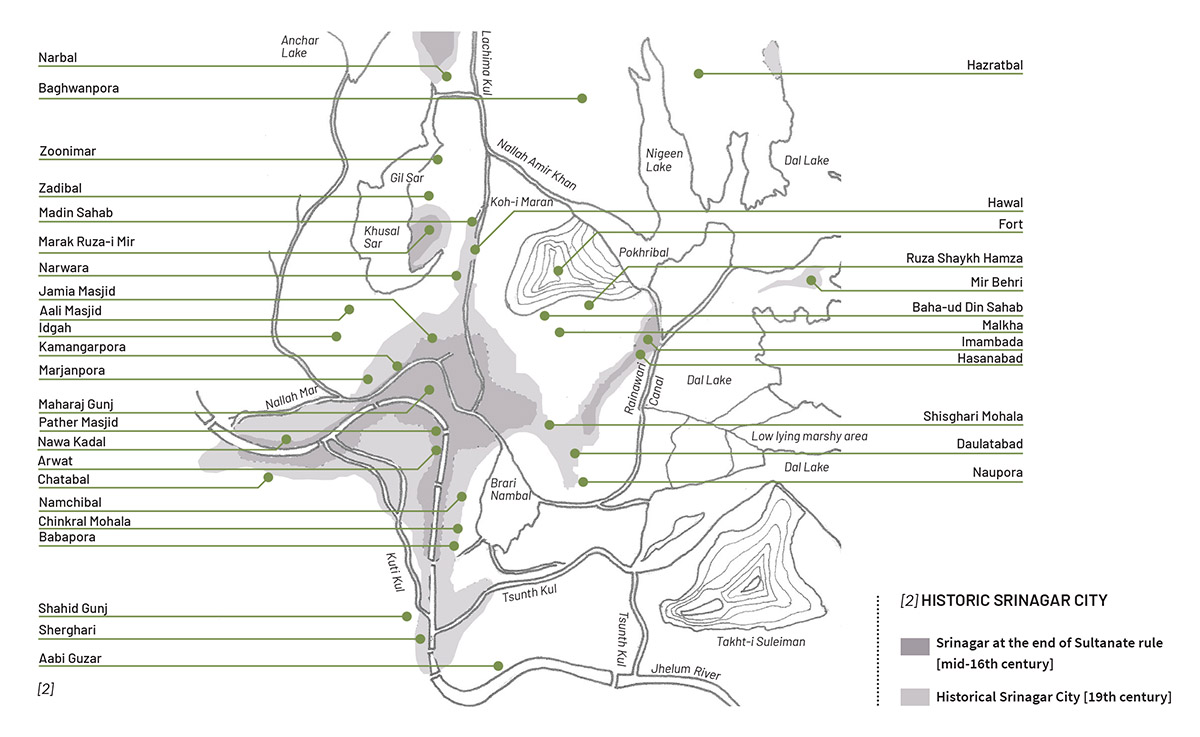 Think about a city, or rather the processes that make the city a living entity, and what inextricably comes into mind is the unending pulse of human endeavor intertwined with the visual tapestry of a home, a workplace, a place to worship, a road to walk; spaces open and, enclosed. Put simply, the tāna-bāna of our human existence. But, then a city is much more than the brick and mortar of its buildings and streets, each city captures a hope for today and a vision for a tomorrow. A city comes into existence where and when people seek to meet their personal and familial needs and desires, sustain their social standing, and honor their gods and goddesses. A city embodies an eternal quest for peace, prosperity, and power. How does one then feel that real, unending pulse of human enterprise that constitutes a city? By living in them as citizens? Exploring them as visitors? Or, as many of us in the profession of architecture and planning believe by undertaking a field study of a few months- enough to complete the "project"? Maybe, the answer lies in each of these questions or maybe somewhere in between. From an enshrined memory, linked with my formative days as a student of architecture in Delhi's School of Planning and Architecture, I am reminded of the lyrics of Fani Badayuni [d. 1941]: