Theory and Discourse
Meticulous Process, Meticulously Documented | Urmila Rajadhyaksha
LA 54
Humayun's Tomb Conservation | Ratish Nanda with inputs from Rajpal Singh and Archana Saad Akhtar
Published by Aga Khan Trust for Culture in association with Mapin Publishing Pvt.Ltd.


Recounting previously implemented conservation efforts at Humayun's Tomb, the oversight every conservation attempt makes is to perceive the monument as a stand-alone entity. While conservation may- and should- be used to facilitate community development, more often than not, it does not encapsulate the tomb's contextual significance, surrounding landscape and community. In viewing the various conservation processes from different perspectives, one attempts to understand the role of various agencies, the nation's conservation policy and the effect this entire effort has on those involved.

Executing landmark projects which become milestones and beacons for other professionals in the field is not easy, but executing projects where the process of execution in itself generates offshoots that are informative and are examples to be emulated or learnt from is even more difficult. The documentation of this process for posterity creates a legacy whose importance cannot be undermined. It is at this intersection that the uniqueness and importance of this book lies. Ratish Nanda and his team at AKDN deserve every bit of praise for the sheer vividness and precision of detail that they have encapsulated in this book. What is also commendable is the complete lack of chest thumping.

In documenting the conservation effort Ratish has also successfully documented a working model of what has come to be a central feature of the AKDN's approach to development which is to design and implement strategies where its different agencies participate in specific settings to help those in need achieve a level of self-reliance and improve the quality of life. Conservation in this approach becomes a tool to leverage community development.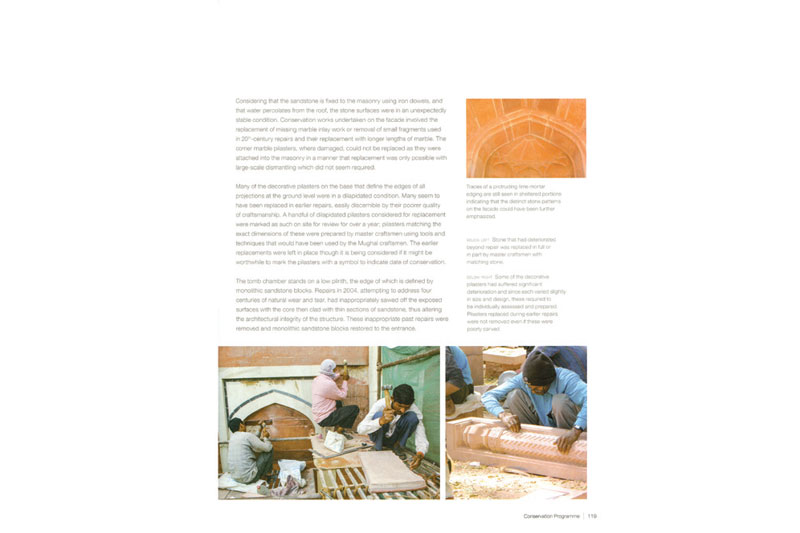 ISSUE NO: 54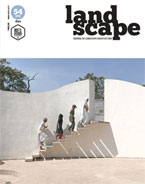 Report
ICOMOS: Heritage & Democracy
Nupur Prothi Khanna, Antara Sharma and Ritika Khanna

Spotlight
CEPT Landscape Celebrates 25 Years
Geeta Wahi Dua

Landscape Program:
Centre for Environmental Planning and Technology, CEPT
Dr Deepa Maheshwari, Sandip Patil,
Bobby Sujan & Divya Priyesh Shah

Celebrating 50 Years of Landscape Architecture Education:
The University of Sheffield, UK
Jan Woudstra

About Design
Whither Design?
Iftikhar-mulk Chishti

Conversing with Nature
Sarthak Sinha

A Place for Expression and Togetherness
Anand Sonecha, SEA-Lab

Drawing
Free-hand Drawing as a Thinking and Analytical Tool
Manalee Nanavati

Tributes
Remembering KurulaVarkey
Neelkanth H. Chhaya

'My Tryst with Hasmukhbhai'
Sanjay Sridhar

Urbanism
Between itself and the World: Ahmedabad
Riyaz Tayyibji

Here Comes the Heart Attack:
Encroaching on the Public Realm
Sameer Chadha

From Practice of Indulgence to Practice of Service
In conversation with Rahul Mehrotra

Ecology and Environment
Understanding the Blue Systems: Bengaluru
Maithily Velangi

Landscape Design
Hidden Experiences: Bungalow, Ahmedabad
Beyond Green

Rejuvenating & Restoring Nature:
Capgemini Technology Services India, Pune
SAMA Landscape Architects

Redefining the Order of Green:
Farm House, Nashik
Ritu Sharma

Abode-e-Burhanpur: Residential Landscape
Nachiket Gujar

Seeing the Unseen
Between Notion and Reality
B. V. Doshi

Book Reviews
Meticulous Process, Meticulously Documented
Book: Rethinking Conservation Series:
Humayun's Tomb Conservation
Review by Urmila Rajadhyaksha

A Wanderer's Companion
Book: A Walking Tour: Ahmedabad
Review by Nisar Khan

The Abode: When Fading Memories Enliven the Present
Book: Krishna Lodge
Review by Snehanshu Mukherjee

Garden Calendar
Spring
Grotech Landscape Developers